There's a gazillion apps to extend the shooting possibilities of the iPhone beyond the standard iOS. However… a concept in iPhoneography that might have passed you by is iPhone HDR (High Dynamic Range).
HDR photos might make you think of other-worldly scenes double-dipped in acid. People tend to love 'em or hate 'em.
Fortunately the iPhone HDR setting takes a less psychedelic approach and simply increases the tonal range of an image.
Highlight Detail
Essentially iPhone HDR mode takes multiple exposures at the same time and blends them to create one image.
By blending different exposures the resulting image restores detail to shadows and highlights.
In the example below the brighter parts become blown out in the original photo. The HDR version restores the missing colour and detail.
(Click on the image for full size)

Improved Skin Tone
A major benefit of using the iPhone HDR is that it improves contrast in skin tone.
The photograph below was taken in less than ideal conditions. Direct sunlight often creates harsh shadows and overexposed bright areas.
In the HDR photo below overexposed areas of the skin were restored as well as detail on the skyscrapers.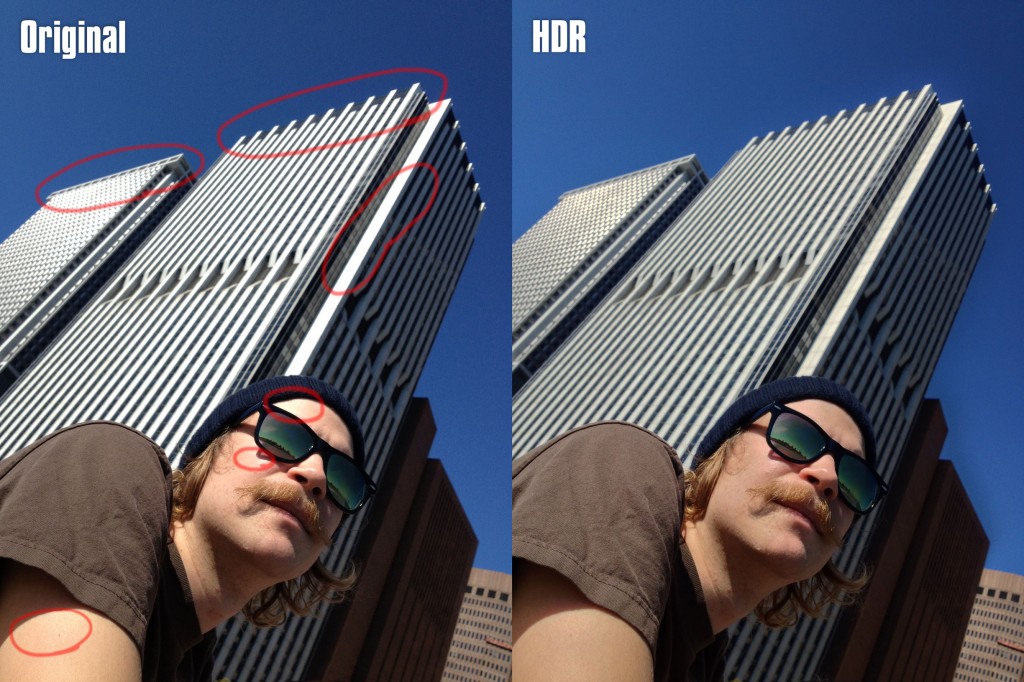 Distortion
The weakness in HDR is distortion within movement. HDR images that contain moving objects often look strange.
The HDR image is compiled from multiple exposures taken at different moments. Even though the time between shots is a split-second the technique is best suited to stationary objects. Luckily the iPhone retains an original copy as well as the HDR copy.
In this image unwanted artefacts are visible where the subject has moved suddenly.

Enabling iPhone HDR
To enable the HDR setting on your iPhone, launch the camera app and click on the Options button in the camera viewfinder.
The HDR option appeared with iOS 4.1 so you have an older phone or iOS there's a chance you might not see it.
Happy snapping!